Interview with Generator's Musician Support Manager Joe Frankland from Boom Town Radio
Generator kick started the 2011 Evolution weekender in style with the biggest ever Evolution Emerging event and the Ouseburn positively overflowing with the region's new musical talent Friday 27 May.

Hyde & Beast headlining Cluny 2 - Photo by Jazzy Lemon

Attendance across the event was close to 1,500, including a fantastic Hyde and Beast show at The Cluny 2 (photo above) and an after-show at the Star and Shadow that were 'one in one out' with all other venues close to capacity.
The Cluny was also 'one in one out' with recent Bella Union signings Lanterns on the Lake headline performance being their first Newcastle date in 10 months, you can see more photos from these venues and the after-show here as well as the other venues here.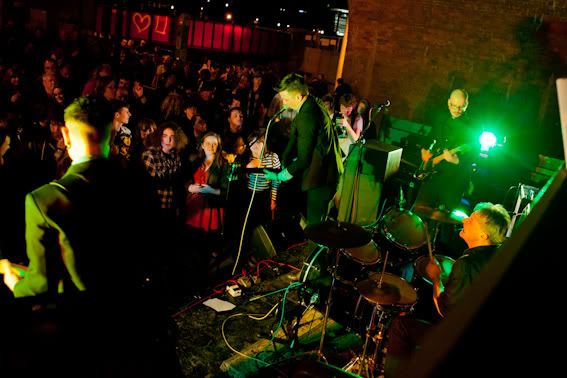 The Chapman Family headlining The Tyne - Photo by David Wala
The Tyne's first full live outdoor event since last summer saw the heavier and darker line up of Evolution Emerging draw the crowds from further up the valley to see the acts on show create a whole atmosphere of their own with an intense headline set from The Chapman Family, you can see some great photos here and watch an interview with the band (and many other acts) from winkball.com before they played here.
In total, 27 performances across 6 venues saw attendances jump up by an estimated 40% this year. Generator's Programme Assistant for Musician Support Bob Allan said: "The attendance and performances on the night along with the fantastic feedback we've received made Evolution Emerging a huge success, we're really pleased this event has grown year on year and is able to offer people the best North East talent for free".
The online buzz around the event meant that at one point, the #EvoEmerging2011 hash-tag was being used once a minute and @evoemerging ended up being 252 last week in the UK's 'FollowFriday' rankings.
Little River Fanzine tweeted: "Overwhelmed by how amazing @EvoEmerging was this year! - great job @GeneratorNE, North East Music is quite simply the best!" whilst Amazing Radio tweeted: "EvoEmerging2011 was an unqualified success, all the bands were great".
Listen to SPARK FM's interviews with some of the artists who performed explaining the significant role that Evolution Emerging plays in the North East music scene here with further coverage from the SPARK team here.
Amazing Radio set up in Blank Studios on Stepney Bank to interview and record stripped back sessions from the artist performing that can be viewed on the sessions page of their website.
---
Generator and NARC. present Evolution Emerging 2011
24 EMERGING ARTISTS, 3 GUEST HEADLINERS AND DJ SETS ACROSS 6 VENUES IN THE OUSEBURN VALLEY
CHECK BELOW FOR ALL VENUE LINKS AND ARTIST INFORMATION
The Cluny Lime Street, Ouseburn Valley, Newcastle

LANTERNS ON THE LAKE
POLARSETS
TOYGER
IN OCEANS
VINYL JACKET
plus DJ sets from MISS ARCHER
The Tyne
Maling Street, Ouseburn Valley, Newcastle
THE CHAPMAN FAMILY
RETRIEVER
CAULS
ARCS & TRAUMA
CULT IMAGE
plus DJ sets from KRISTIAN (SPLASH ONE RECORDS)
Cluny 2

Lime Street, Ouseburn Valley, Newcastle
HYDE AND BEAST
AJIMAL
MAUSI
THE LAKE POETS
MATADORS

Star & Shadow Cinema

Stepney Bank, Ouseburn Valley, Newcastle
OFFICIAL AFTER PARTY featuring DJ sets from WHIP YOUR HAIR, KINGSLEY CHAPMAN, FIST 'n' POON, JAMES GRAY & MISS ARCHER
GRANDFATHER BIRDS
PILOTS
WE BEAT THE SYSTEM
SHIFT STATIC
The Cumberland Arms
James Place Street, Ouseburn Valley, Newcastle
COAL TRAIN
JIMMY & THE SOUNDS
MOTION TOURIST
TOMAHAWKS FOR TARGETS
The Tanners
Stepney Bank, Ouseburn Valley, Newcastle
WASKERLEY WAY
BARON VON ALIAS
ATHLETES IN PARIS
HATTIE MURDOCH
PLUS
Amazing Radio will be using Blank Studios as their Evolution Emerging hub - featuring interviews with artists and stripped back sessions
Get your interactive ClashFinder or download the attached PDF ClashChecker
Previous events have seen headline sets from Field Music side-project The Week That Was, Detroit Social Club and Frankie & the Heartstrings.
The event has a strong track record for identifying artists who have gone on to gain wider national recognition. Highlights from 2010's event included Let's Buy Happiness (successful UK tours, performance at Glastonbury and much loved by BBC 6Music, NME, Drowned in Sound), Mammal Club (signed to Everybody's Stalking records, played In the City and supported by BBC radio), We Are Knuckle Dragger (set to record their debut album in Chicago with Steve Albini) and Sharks Took the Rest (recently chosen as Nemon's Record of the Week on BBC 6Music).
This year's line-up reflects the vast array of emerging talent from all styles of music across the North East, and sees the event grow, with 3 special guest headliners, 24 emerging artists, DJ sets and an official aftershow party.
In January, we called out for regional bands and solo artists (from any genre) to apply to play and the response surprised everyone. We received over 300 tracks submitted and the standard of entries proves just how thriving the North East music scene is right now.
We will be updating this page with special announcements as it gets closer to the event.
You can also follow the latest happenings through Twitter - come follow us
For more information on the rest of the Evolution Festival: www.evolutionfestival.co.uk
Evolution Emerging is supported by Arts Council England, Northern Rock Foundation, ERDF and PRS for Music Foundation.